Before starting this tutorial I will suppose that you have read my previous posts one is about curve pattern and second is about extrude feature.
I will skip initial steps as they are the same as I did in my last post. I will start with solid rectangle having a hole at its left bottom corner as shown in fig below.
Now select the hole and click at pattern tool. In pattern tool menu select the "point" option.
When you will click at point option the creo will ask you to specify the points that you want to include in pattern. So we will go to sketch the points. For this click at the "reference" tab the click at "define" button.
This will open a dialog box. Now select the surface of of solid rectangle and press sketch button in dialog box. This will lead you to sketching window.
In sketching window click at "point tool" icon and make point according to your choice .i draw a letter "M" with these points. After drawing point press green ok button.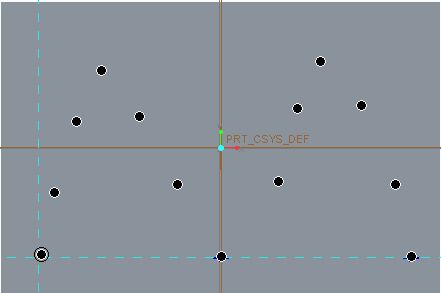 When you return to main window from sketching window you will see black dots at exact that location where you draw the points.
Now everything is complete so just press done button and creo will draw holes according to the points you made.